| | |
| --- | --- |
| Help 5.7 RSVP your attendance on a club event | Page 1 of 3 |
Introduction: The Sunshine Coast Bicycle Touring Club holds several cycling events on Saturday (20km, 25km, 30km, 33km, 34Km, 35km and 40km) as well as Sunday and Mountain Bike Rides that leave from various locations. RSVP lets the event organiser know your coming so venues such as coffee shops can be booked for sufficient number of people. It also lets organisers know if there is sufficient interest for the event to continue, especially where meeting point locations are far from home or the weather is in doubt. In future website releases organisers can restrict numbers on people who can attend events with a cut-off date to register by. There is scope for RSVP to replace the paper ride sheet everyone signs at start of event providing all members attending register electronically prior to commencement of the event. See relevant section A) Registering Attendance on event from Non members Menu or b) Register attendance if already logged into members area.
Note: If your not a member of the club you cannot automatically RSVP to the event. You will need to contact the event organiser to have them register you for the activity either in advance or on the day at the start of the event.
Intended Audience: Club Members only. Non members, prospective members and guests will have to register with event organiser.
A) Registering Attendance on event from Non Members Menu
1) Select Calendar TAB from the club home webpage then press the button. See Figure 1 Below.
Figure 1 - Add Saturday Group Ride Button
2) On the cycling events page, select the Register/Unregister Attendance (Members Only) hyperlink next to relevant ride. In example shown in figure 2, I have selected the Saturday 30km by using this hyperlink.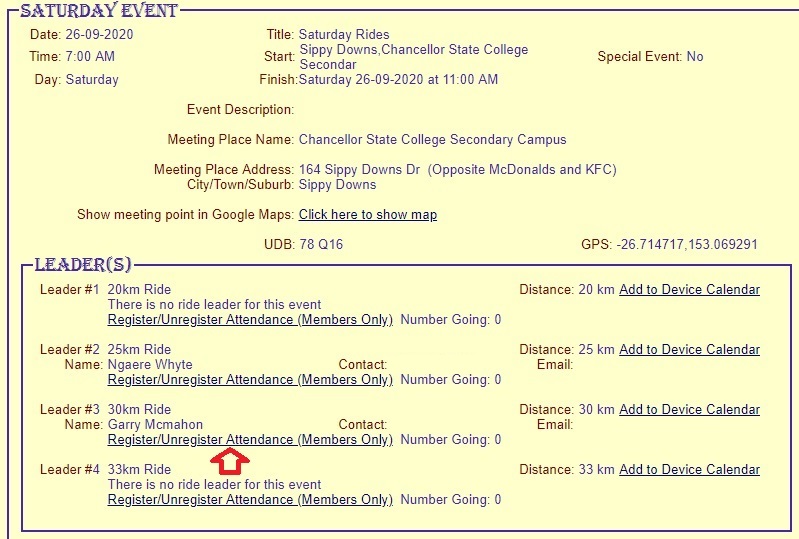 Figure 2 - Entering the Event Details
3) A new window will open and take you to the logon box. You will need to provide your member ID or name and password to continue. In some cases it may go directly to the event RSVP panel in step 4, if that is the case you failed to logout of the website correctly the last time. Its highly recommended you always logout to prevent unauthorised access to your details should someone else gain access to the same device to logon to club website. See Figure 3 for logon box.
| | |
| --- | --- |
| Help 5.7 RSVP your attendance on a club event | Page 2 of 3 |
Figure 3 - Logon to Club Website
4) Complete the details including preferred contact phone number and emergency contact details as show in figure 4. It is highly recommended you put the emergency contact details in so other members can access these details in the case of an emergency. If you want to share your phone and e-mail address with other people in the club then tick the Share E-mail and Share Phone boxes respectively. The contact phone and e-mail address will appear on the online ride sheet for everyone when you select Ride Sheet Online hyperlink next to event. If you don't tick the share phone and e-mail address boxes only the ride leader for that event, ride co-ordinators and Calendar administrators will be able to see your contact details. Press Register Attendance button to complete RSVP. Note: If your already registered to attend event, the Register Attendance button will appear as Update Attendance and Remove Attendance for RSVP instead. To remove yourself as attending just select Remove Attendance button.
Figure 4 - Complete RSVP Details
5) After you press Register Attendance, the website should return you back to the first page of the calendar with a message at the top Attendance Successfully Made. You can now navigate to all functions of the website as per normal.
B) Registering Attendance if already logged into Members Area
1) Select Calendar TAB (It will turn from Pink to Green once selected) and navigate to the event you wish to RSVP on. See Figure 5.
| | |
| --- | --- |
| Help 5.7 RSVP your attendance on a club event | Page 3 of 3 |
Figure 5 - Select Calendar TAB in Members area
2) You will see the status of Not Going next to the event. Click on the link Change Status to change your RSVP status. You can also update your RSVP by selecting Change Status should emergency contact and phone number changes. See figure 6.
Figure 6 - Change Status link next to event
---